The Goals of the Marathon Wild Bird Center
1. Rescue sick, injured or orphaned birds for the purpose of rehabilitation and release back to the wild in the Middle Florida Keys.
2. Increase awareness, respect, and caring for the native bird species that populate and migrate through the Florida Keys.
3. Provide educational programs and information to the public with the hope of reducing the number of direct human related bird accidents.
4. Monitor the general environmental health of the "Keys" via our interaction with the native and migratory birds we encounter.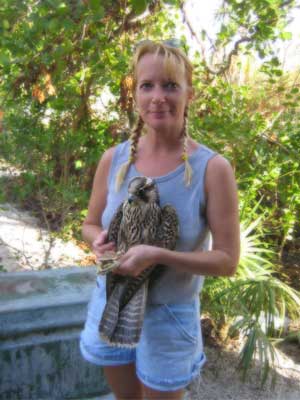 State and Federally Licensed Wild Bird Rehabilator: Kelly Grinter
The Marathon Wild Bird Center is an all-volunteer organization founded by Kelly Grinter. Arriving in the Florida Keys in 1994, Kelly completed a live-in internship at the Florida Keys Wild Bird Center in Tavernier, Florida. Under the guidance of founder Laura Quinn, Kelly's love of caring for wild birds took flight.

In this picture, Kelly is putting her hand down the throat of a great white heron to retrieve a fishing hook the bird swallowed because there was a fish attached to the hook.
Kelly graduated from Massachusetts College of Art in 1990, beginning a career in graphic arts. After several years with a computer graphics firm in Providence, Rhode Island she began providing freelance graphics for a large accounting firm in Boston. In her spare time Kelly volunteered as an education docent at a small neighborhood zoo. Her interest in the zoo and its collection of animals quickly earned her a seat on the Board of Directors, one that soon led to the position of President.

In this picture, Kelly is releasing one of her favorite birds - please note, she loves all birds - but the osprey is one of her most beloved creatures.
In 1994 Kelly was invited to take part in an 8 week internship with Laura Quinn, the director of the Florida Keys Wild Bird Center in Tavernier, Fl. Laura was generous with her knowledge of rescuing, rehabilitating, and releaseing injured wild birds and Kelly was like a sponge - absorbed it all! Laura asked Kelly if she would relocate and start a rescue center in the Middle Florida Keys.

Kelly with her mentor, Laura Quinn.
Realizing the need for a Wild Bird Center in the Middle Keys, Kelly approached the Florida Keys Land and Sea Trust with an offer to establish a wild bird center using an old carport on their property in exchange for the construction of a non-releasable hawk habitat and educational programs at their Crane Point Museum.

Kelly started out stabilizing injured birds in the backseat of her car.
Kelly now has a 240 square foot area which contains an exam and food prep area. This area also houses cages for critically ill and injured patients. Next door is a complete surgical area with anesthesia equipment, x-ray machine, and a laboratory for blood work.

This is a typical day for Kelly; a bird in one hand and the phone in the other!
Kelly is involved in many educational programs for local community groups and at the Crane Point Museum. The Bird Center is on the museum's walking tour for people to watch the recovering birds in the outside flight cage. Children love to come see the Wild Bird Center's facility.

Kelly releases a rehabilitated bird for a group of children on a field trip to the Crane Point Museum.
The Wild Bird Center puts Kelly in all kinds of situations!

In this picture, Kelly is balanced on a ladder with an endoscope's handle in one hand and the other hand holding the probe. She was called by a company which wanted to clear a piece of land for development but they noticed baby woodpeckers in a coconut tree. This company physically cleared the lot around this one tree allowing the parents to finish raising their brood. This is important because they went the extra step to leave the tree where it was for the parent woodies. "Thank you" to Alberto Cruz of the Novus Company for calling the Wild Bird Center to save these baby woodpeckers.
Orphaned Baby Birds: Summer is the time for raising baby wild birds
Raising a Double Crested Cormorant
305-743-8382
Website design by a Florida Keys website company, donated by a volunteer: access-to-web.com